Product Description
Featuring industry leading wireless technology and range, the Wireless Loadshackle is supplied with an update rate of 3Hz and can be easily configured to run at industry leading speeds of up to 200Hz. Data is transmitted wirelessly utilising the latest in IEEE 802.15.4 (2.4 GHz) technology providing safe, high integrity, error free transmission of both static weight and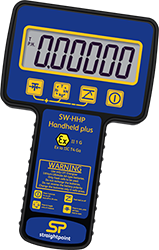 dynamic load to our SW-HHP-ATEX handheld controller for use in hazardous area or wireless Windows PC data logging software package in the safe area. Our wireless data logging software allows for simultaneous control, display and real time data logging of up to 100 Straightpoint telemetry load cells. Logged data is captured in a .csv file format and opens in MS Excel providing easy visual presentation, analysis of logged data, and simple test certificate generation.
Our Wireless Loadshackle utilises easily sourced Energizer® Ultimate Lithium AA Batteries and features advanced circuitry designed to protect the unit from damage associated with incorrectly installed batteries. This advanced circuitry extends battery life and eliminates issues associated with rechargeable battery pack charging, failure and replacement.
Our huge range of tooling allows us to calibrate in shackle for extra accuracy unlike many other load cell manufacturers.
FEATURES AND BENEFITS
Approved for use in hazardous zones
Proprietary 2.4 GHz Wireless
Error free data transmission
Industry Leading Wireless Range of 700m/2300ftUnrivalled Resolution
Environmentally sealed to IP67/NEMA6
Unrivalled resolution
Unmatched Battery Life of 1200hrs
Low headroom solution
Product independently approved by SIRA
Design validated by F.E.A.
APPLICATIONS
Hazardous areas
Offshore oil and gas
Chemical plants
SUPPLIED WITH THE FOLLOWING AS STANDARD
Centralising bobbin
Proof test certificate
Operator Manual
Carry/Storage Crate
Certificate References:
WLS-ATEX
IECEx SIR 16.0041X
Sira 16ATEX2108X
SW-HHP ATEX
IECEx SIR 15.0072X
Sira 15ATEX2196X
Downloads
Durham Lifting Straightpoint Wireless Loadshackles
Durham Lifting Straightpoint WLS Atex – User Manual